Metry
Brand
Guide
Welcome – this is a short but sweet introduction
Wonderful to have you here. The Metry Brand Guide is designed for all of us working at Metry. This guide will escort you through Metry's core values and explain how they influence our choices of visuals and content. Most importantly; you've come to the place where you can find our logo, our colours and other visual assets. Keep scrolling!
Questions or feedback? Torsten is happy to help. Don't hesitate to drop him a line.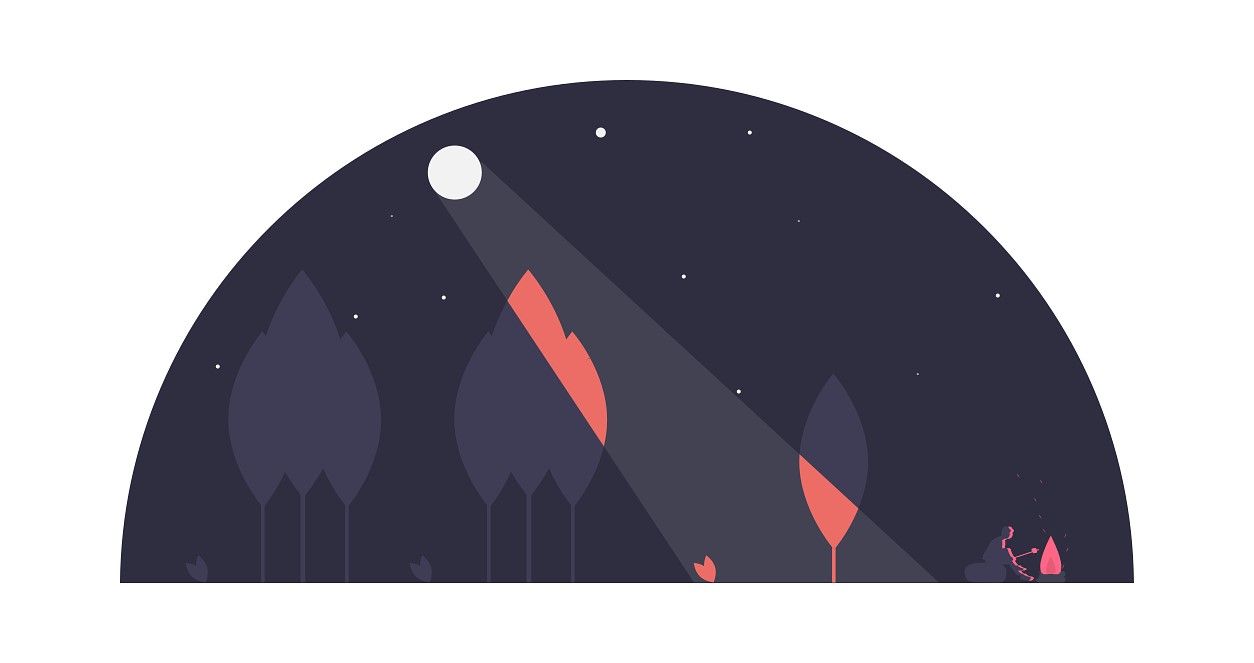 Our Core Values
Our core values, in short, are our what, how and our why. They are the backbone in everything we do and essential for our growth. They are also the reason why we wrote our growth in the previous sentence and not the company's growth.
Quality
We are focused and up-to-date by constantly learning about new technology. We have a holistic approach to problems which means we don't do quick fixes. If the boat has sprung a leak, we fix the entire boat and not just the leakage.
Transparent
We have an honest offer and are open with our customers as well as with each other. We are transparent when it comes to pricing, discounts and volume. Problems? – Let's address them right away and not sweep them under the carpet.
Helpful
We care about each other, our work and our brand. We are solution oriented, welcoming and flexible. Working together makes us stronger! If a customer needs help, we'll be there, and we don't like to say no.
Dis
ruptive
While reshaping the world of energy data collection, we grow as a company as well as individuals. Pushing for digitalisation in an old fashioned industry means we hire people with an open mind and with different backgrounds.
Writing Style
With a friendly tone, clear language and solid knowledge about our market and audience, we create messages that make data collection understandable and desirable. Our writing is short, sweet and on point.
Simple, Active Language
Use words that everyone can understand unless you are using business-specific expressions. Adopt an active voice, meaning the subject of a sentence performs the action.
Do: I wear shoes.
Don't: The shoes are being worn.
Action First, Why Later
Start a sentence with the action you want the reader to perform. End the sentence with the reason for performing the action, or put the why in the headline.
Do: Click the button to start your writing career.
Don't: To start your writing career you have to click the button.
Logotype
Our logotype is the most significant identifier of our brand. Use it in ways that you feel make Metry sparkle.✨
The Story of the Logotype
The Hexagon
The hexagon is the most effective, least wasteful shape found in nature. The compressive characteristics of the shape allow it to be one of the strongest structures in the world. Previous studies on the geometry of the beehive have indicated that no other shape can create more space with less material.
The Box
The M in combination with lines forms a three-dimensional box. The box represents putting all your energy data in a box — in one single place.
The Dots
The dots connecting the M represent connected data points.
Use the Logo in the Best Way Possible
Use the full version to introduce Metry to your audience, when Metry is the focus of your communication, e.g. on the cover slide of a slide deck. Also use it when you would otherwise write Metry in text, e.g. on business cards and email signatures.
Use the hexagon version for familiarity, when the audience is aware of the connection between the hexagon logo and the brand, e.g. in slide templates, and website headers.
Use the red colored logo only on a white background.
Use the white colored logo on any background color or picture. Just make sure the text is readable.
Get the Logotype
Download the logos from our Google Drive folder. Try using the SVG files first, these scale to fit whatever size you need. If your app doesn't work with SVG, the images in PNG format should work anywhere.
Open Logotype folder on Google Drive
Need a logo for the web?
Use a logotype from our public media server. That way it will stay fresh when we make updates. Copy the link to the logo you want below:
Colors
"The greatest masterpieces were once only pigments on a palette." Colorize your content to create your own masterpieces. Use the Metry palette to ensure that your work looks beautiful and communicates the Metry values.
Our color palette consists of two primary, two secondary, and three accent colors, as well as a grey scale. Use the primary colors as a starting point for illustrations, charts and alike, and add secondary colors when you need more options. When you need to highlight specific parts of your content, the accent colors are your friends.
The colors are available as presets in our most frequently used apps. For other uses, here are the color codes you need:
Primary colors
Primary Dark Blue, #3B3951
Secondary colors
Secondary Light Blue, #D0CEE0
Accent colors
Typography
Good typography reinforces the purpose of a text, increases readability and gives the reader a visually satisfying experience. In short – well-executed typography choices makes reading way more fun.
Large headings (H1 to H3) use the font Montserrat, thus creating a link between our logo and written content. The logo also uses Montserrat to spell out Metry. Pretty neat, huh?
Body text uses the font Roboto – a readable and free-of-charge font. Compared to Montserrat, Roboto is easier to read when you use a small font size. It is also much more space-efficient.
Smaller headings use a bold version of Roboto. These headings are often placed close to the body text, and therefore it is better to use the same font and avoid unnecessary mixing of fonts.
Below, you'll find a list of the fonts and sizes we use in web material. We use similar typography, adjusted for documents in our templates for Google apps.
Heading Level 1
Montserrat Bold 62px/72px -0.3px letter spacing. Set in Metry Primary Dark Blue.
Heading Level 2
Montserrat Semi Bold 36px/48px -0.4px letter spacing
Heading Level 3
Montserrat Semi Bold 22px/48px
Heading Level 4
Roboto Medium 16px/24px
Heading Level 5
Roboto Medium 14.4px/24px
Ingress text Turnip greens yarrow ricebean rutabaga endive cauliflower sea lettuce
Roboto Regular 28px/40px
Body text level 1 Turnip greens yarrow ricebean rutabaga endive cauliflower sea lettuce kohlrabi amaranth water.
Roboto Regular 20px/32px
Body text level 2 Turnip greens yarrow ricebean rutabaga endive cauliflower sea lettuce kohlrabi amaranth water spinach avocado daikon napa.
Roboto Regular 16px/24px
Body text level 3 Turnip greens yarrow ricebean rutabaga endive cauliflower sea lettuce kohlrabi amaranth water spinach avocado daikon napa cabbage.
Roboto Regular 14.4px/24px
Get the Fonts
Roboto and Montserrat are available in all our Google cloud apps. Click the links below to download the fonts for use in apps on your computer.
Illustrations
Our illustrations come from UnDraw, a ready-made library of illustrations. Pretty neat right?
A ready-made library might not be the most unique style ever invented, but it frees up time otherwise spent on creating our own illustrations. Metry is not a famous brand, like Coca Cola, Mailchimp or Apple, and familiarity is most easily achieved by being somewhat mainstream.
Get Your Illustrations
Follow these three simple steps to get your Metry-colored illustrations ready for wherever you need them.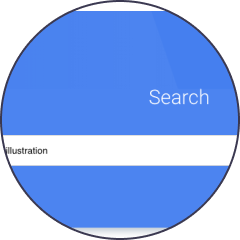 Use the search form on unDraw's website to find illustrations that match your content.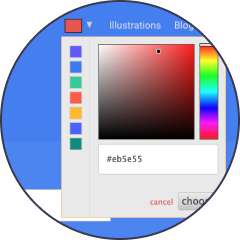 Change the image's accent color to our Primary Red (the code is #EB5E55, no need to scroll back up to the color section). This way, it will blend in well with all other colors.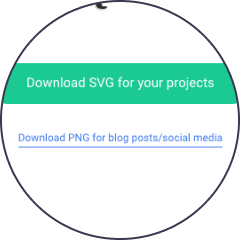 Click an illustration to download it. To use the illustrations in any Google apps, click the Download PNG for blog posts/social media link, since Google doesn't support the SVG format.
Search for illustrations on unDraw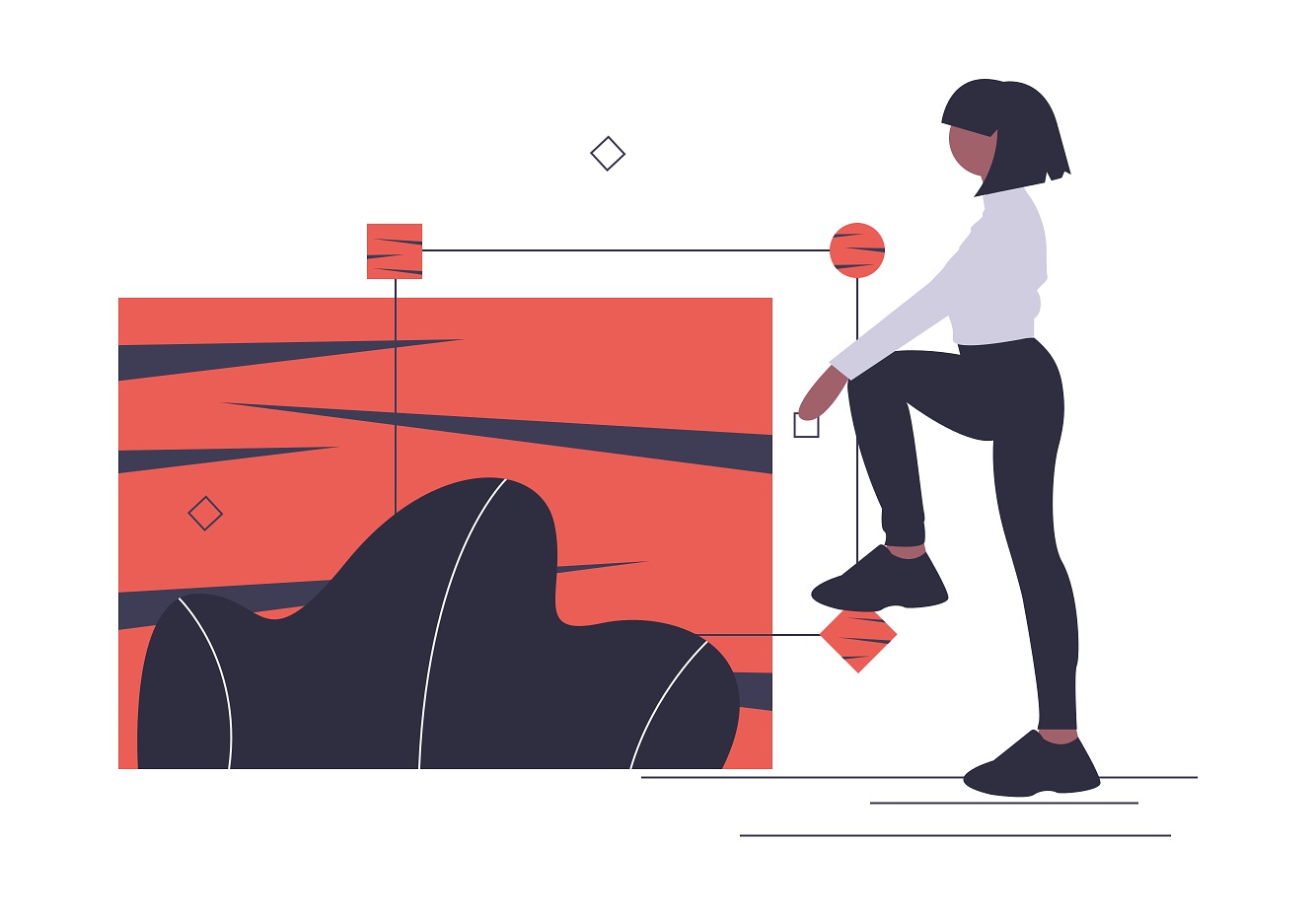 Photos
We use stock photos. Oh yes. A good site for downloading stock photos is Unsplash, but there are several.
Some basic guidelines
Avoid photos that are obviously stock photos.
Minimize the number of faces in the photos.
If you have to use a photo with faces, make sure they don't represent stereotypes that might be offending to some.
Choose photos with one focus that tells a specific story.
Match photo with content. Be relevant.
Your chosen photo is there to illustrate your text. Content first, photo later.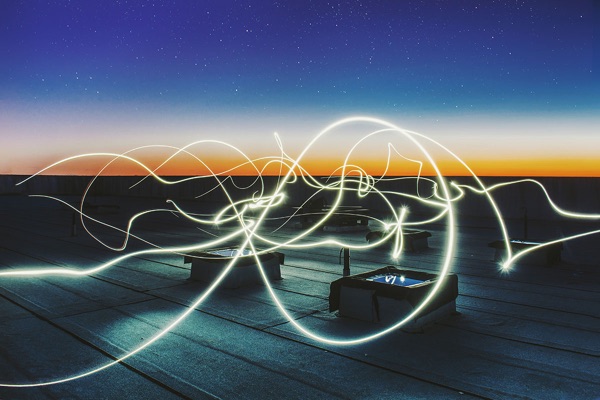 ✅ No people
✅ One focus (ish)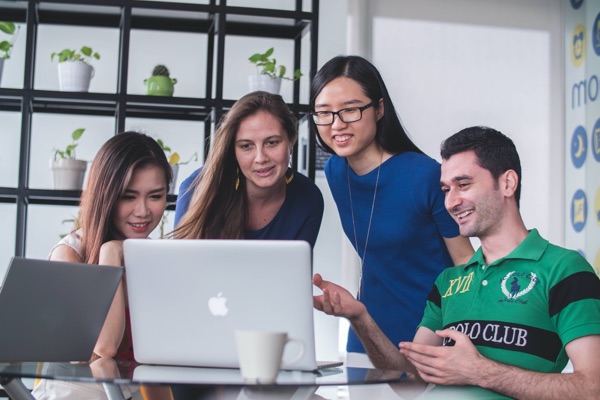 ❌ Have you ever seen a more stock photo looking stock photo?